Evan Marx
General Information
Gender:
Male
Age:
16 (Season 1)
17 (Season 2)
18 (Season 3-4)
Hair Color:
Brown
Eye Color:
Blue
Occupation(s):
Student
Aliases:
Ice King (Rose, John, and Nicole); Jerk (James); Evan Zolanski, Evanem (himself)
Family & Friends
Family:
Kristen Marx (mother)
Landon Peters (biological father, estranged)
Lorenzo Marx (stepfather)
Elise Marx (stepsister)
Relationships:
Tyler St. Patrick (crush)
Claude Montague (ex-boyfriend)
Lucas Aguirre (ex-boyfriend)
Breezy Hollister (ex-girlfriend)
Jaxon Pierce (ex-crush, sexual, ended)
India Wilson (ex-girlfriend; sexual)
Chad Riker-Smith (kissed)
Bella James (ex-crush)
Aldy Williams (kissed)
Miles Larson (ex-crush, kissed twice, sexual)
Skylar Hartson (ex-boyfriend)
McKenzie Kenton (prom date, sexual; ended)
Sexuality:
Bisexual
Friends:
Aldy Williams (best friend)
Jaxon Pierce best friend)
Lana Addison
Nicole Martin
Chad Riker-Smith
Miles Larson (not as much since Be Our Guest; on and off)
Chuck Salvatore
Bella James
New Directions
Tyler St. Patrick
Enemies:
Azimio Adams
India Wilson
Louis Stephenson
The Legacy
Other Information
Interests:
Singing, dancing, acting
Clique:
Glee Club
Talent:
Singing, Vocals,
Strengths:
Education, great grades
Weaknesses:
Romantic fantasies, fast crushes, anger.
Series Information
First appearance:
Proud
Portrayer:
Landon Liboiron

Evan Riley Marx (née Lancesten Peters) is a main character in JamesonOTP's ongoing fan fiction, Glee: The Next Generation. He is an alumnus of McKinley High School, and a former member of New Directions. Evan starts off a major antagonist within New Directions, however, by "My Boyfriend's Back... Maybe?," this has changed and he considers them friends. He is shown to be friends with Lucas Aguirre the entire time, throughout both his antagonist and protagonist phases. Evan is bisexual, out to his friends. In season two, the fifth episode, "Popular", he finally came out to his parents, with help of his friend, Jaxon Pierce. In "Evan&B", Evan decided to transfer to Dalton & join the Warblers, as he felt his ideas were being ignored in New Directions, where he began to grow apart from Lucas & grow closer to Claude Montague, who had feelings for him. They started dating in Hollywood, and Claude transferred to New Directions in order to be with him. However, he transfers back to Dalton Academy after Miles forces him to by kissing Evan. They later break up in Jagged Little Pill, and Evan started dating a college student, Skylar Hartson, until When I'm Gone, the episode where Evan overdoses. Evan graduated McKinley High and is currently attending NYADA. 
JamesonOTP refers to Evan as "one of my favorite characters. He's such a great character to write for." JamesonOTP has also described Evan as Glee: The Next Generation's version of Puck. Evan has dated Lucas Aguirre, Breezy Hollister, India Wilson, Claude Montague & Skylar Hartson and had a crush on Jaxon Pierce. 
Evan Marx was created by ClevanOTP, who also created the microphone covers for Glee: The Next Generation in season one.
Personality
Edit
Evan is a sensitive and kindhearted person at times, but he's completely crazy at times. This indicates he most likely has bi-polar disorder, but it's yet to been diagnosed or addressed. He's very intelligent and honest, sometime saying what he feels without thinking about how people might take it. He loves to sing, dance, and act. He is also very defensive, jumping on the offense when he feels insulted or threatened. His quick temper is his biggest obstacle. He is also has a big weakness is the fact he wears his heart on his sleeve and he falls too quickly and deeply.
Evan is normally, a nice, sweet, caring, intelligent guy who just so happens to be a hopeless romantic. However, when India Wilson decides to use him for his popularity (Evan is one of the most popular guys in school along with Jaxon and John), her attitude, actions, and demeanor changes him. Evan is a crowd follower and a people pleaser. He lets himself turn into the type of person India wants to be with (a trouble starter) to make her happy because he's so desperate to be loved and fit in.
However, when faced with the reprecussions of his behavior, Evan sees the type of person she has become and is disgusted, breaking down and crying. Evan makes a change for the better and becomes a friend to the other members of New Directions.
By season two is where he gains more sensitivity and need and loses more of his churlish behavior, in where he starts dating Lucas Aguirre, he finds it easy to come to his true self. However, when he quits New Directions to join the Warblers in Evan&B, things change when he believes that he needs something more, when he meets Claude, everything changes.
Biography
Edit
Season One
Edit
In Proud, Evan makes his first appearance as he auditions for New Directions, performing 4 AM, stating that he dedicating the song to a certain guy, which was Jaxon Pierce. In voice-over, he narrates that Glee Club isn't normally his thing; he decided to get closer to certain people, Jaxon and Bella. He has had a crush on them, and states that he has a bad habit of falling in love with people as soon as he sees them, he does it until he gets heartbroken. 
Later on, in Battle of the Sexes, Evan meets Brittany, and compliments that she's the "Wonder Woman of Dance", however, when Brittany says something senseless, he makes an attempt to call her stupid, until Jaxon covers his mouth. Meanwhile, he performed in You Get What You Give with the rest of the New Directions Boys.
In Two of Hearts, Evan confronts James for "stealing his man", referring to Jaxon, after seeing Jaxon hold him back from India. He calls him a piece of Vocal Adrenaline trash, and tells him to go back to Carmel so New Directions could beat them at Regionals. Evan states that Jaxon will come to him because he's way hotter, and asking what is there to see in James. Later on, he performs We Built This City with New Directions and then performs The Goonies 'R' Good Enough with John and Lucas. 
In Invitationals, Evan compliments India and calls her beautiful, while India asks if he would walk her to class, he accepted it. When Jaxon and Hallie confront India, Evan defends her, and Jaxon believes that Evan is trying to get back at him, and states that he never liked Evan. Evan states that he loves India, and calls his friends "trash", and says that they have made a major enemy. She and India both refused to perform at Invitationals.
In This is Halloween, things start to get more tense between Evan, India, and New Directions. He performs This is Halloween with New Directions without India, then, when India makes a harsh comment about Hallie, she claims that she and Evan makes a rude comment to her everytime. Evan and India both watch as Jaxon, Hallie, Miles, and Bella sing We're Not Gonna Take It to them. Evan confronts Jaxon, and gets to his face, while James tries to stop then. When Jaxon calls Evan a jerk, he punches Jaxon in the face, resulting in a suspension for a week. He sings Monster as he makes his departure from the school building, starting to regret what he has done.
Later on, in 
My Boyfriend's Back... Maybe?
, Evan returns back to McKinley, as a bullywhip, trying to stop Azimio and Louis for messing with anyone. When India tries to talk to Evan, he claims that he's busy. But her wanton ways towards him forces Evan to break up with her, leaving her just like that, blaming her for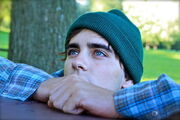 creating him into a monster. He sings 
I Am Changing, 
then, Jaxon and Evan go face to face, Evan apologizes to him for the altercation during Halloween. Jaxon tries to tell him to stop being hard on himself, and Jaxon should have been more sensitive to him. They both reconcile, and Jaxon forgives him. When Evan returned back to New Directions, he performs a song as his formal apology to everyone in New Directions, he and they sang
 There For You.
Meanwhile, in Don't Turn Around, Evan agrees to pitch a song to Jaxon and Bella for the Sectionals duet with Breezy, and to go over her house to brainstorm ideas. At Breezy's house, Evan has his guitar and performs Accidentally In Love with her, but instead of ending it on a friendly note, they reach in for a kiss. Later on, he performs Tonight, Tonight with New Directions. 
In The Most Magical Music On Earth, Evan believes that his kiss with Breezy was "magical", but Jaxon gives his insight on what a kiss means to him. Evan says that he and Breezy aren't an item because she was scared and tried to focus on something different. Evan, then, gets advice from Jaxon and James about his kiss with Breezy. He performs I See the Light for Breezy. 
In Battle for Sectionals, Evan tries once again to win Breezy's heart by singing We All Want Love with New Directions to impress her, and they both officially began dating. Meanwhile, in The Power of Love, it all turns to the bad. Before, Evan attends the New Year's Eve party, and performs The Party's Just Begun with John, Honey, and Breezy. As the party goes on, Evan tries to take Jaxon upstairs to a quieter place, and they both mention how many Jello shots they have taken, then the silence comes in as Evan moves in for a kiss. At first, Jaxon resists, and then he kisses him back, and it gets sexually intense; they also never knew what they were doing since they were drunk. Evan lays in the bed after, and as Honey opens the door, shocked at what she saw, James catches them, brokenhearted. Breezy slaps Evan in the face after finding out about it. He sings Unfaithful along with Jaxon and James in the end. 
In Love Conquers All, Evan apologizes to Jaxon for what happened the night before, feeling as if everything was his fault and he should have never forced himself on to Jaxon, who wants to try to act like the night never happened. Breezy forgave Evan in the end. Meanwhile, he sings Love Conquers All with Breezy, Jaxon, and James. In British Invasion, he sings backup vocals with Miles as Kevin performs Hungry Like the Wolf. 
In Regionals, Evan performs Family Affair with New Directions for Regionals. In Heal the World, Evan defends Lucas with Jaxon, Miles, and John, as he is being verbally and physically bullied, and performs They Don't Care About Us with New Directions and the Gay-Straight student alliance. 
In (It's) Hairspray, Evan auditions for the school production for Hairspray, and he gets the role of Corny Collins. He performs (It's) Hairspray in the play. Meanwhile, in Ignorance, Evan and Jaxon both perform Aftermath for James. Evan tries to wonder if Lucas is okay after the gay-bashing attack that he experienced, and when Lucas asks if Evan thinks that he is a spaz, he disagrees, and gives him advice by telling him to see Emma Pillsbury-Schuester for help. 
Meanwhile, in Pretty In Pink, he attends Prom, and when he does, he performs Full Moon, mainly focused on Lucas. A disappointed Breezy wonders why the song was about a man and not about her, and he tried to tell her that it was just a song, they both danced. In Vegas, Evan still gets questioned on his performance at prom by Breezy, who is anxious to know who he was singing to. As he and the rest head to Las Vegas, Evan agrees to go to a casino with Jaxon, James, India, Bella, and Hallie. At Nationals, Evan and Jaxon perform a duet, Pretty Vegas, but later on, Jaxon is disappointed in Evan for letting Archie convince him to sleep with him, Evan tries apologizing, and they both hugged.
In Sing-Off, Evan reveals to Breezy that the person he was singing to was Lucas, and also reveals that Breezy's attitude has changed and decides to end their relationship and stay as friends. Finally, in LDN, Evan and the rest of the gang head to London, and things get intense as Evan starts to fantasize about Lucas, he sings Fantasy, but ends up embarrassed as his hormones start to kick in. 
Season Two
Edit
In the second season debut, High School Never Ends, Lucas pulls Evan to him and confesses something to him. Meanwhile, in Goodbye, Evan asks Lucas if he "meant what he said" after he tells him that he has feelings for him. He calls Evan sexy and popular. They then sing Close My Eyes Forever and they kiss each other. In It's Britney, Bitch, Lucas recalls how Evan kissed him, and believes that Evan had a reason to do it. Evan forces Lucas to kiss him to prove what it meant to the both of them and then Evan sings a Britney Spears mash-up, If U Seek Amy/3, with India.
In Duets Deux, Evan wishes Lucas luck for his performance, and Lucas says that he's nervous and Evan compliments him, and he comes out and tells him to show the audience how he fell in love with him and asks for the honor to be Lucas' boyfriend. Later on in Popular, Evan smiles as Lucas dedicates a song to him, he then performs Where Have You Been in practice of trying to get a solo for Sectionals. Meanwhile, with the help of Jaxon, Evan makes a big decision to come out to his parents, which brings him to tears, he gets support from his parents and his sister, Elise.
In 
Mash It Up!
, Evan and Honey sings
Fergalicious/Check It Out
 for the mash-up assignment, and in 
Yee-Haw
, Evan makes a comment against country music as Will lets New Directions do an assignment for country. In 
Rhythm Nation
, Mr. Schuester thanks Evan for helping decide on their Sectionals list, and then sings a duet with Jaxon, who says that he and Evan make a great duet team.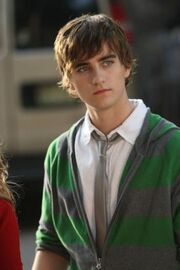 In Fear/Fearless, Lucas realizes that Chad returned back to McKinley after his release from jail after bullying Lucas into a hospital bed. Evan sings Cold War, and hugs Lucas as he walks in the auditorium scared. Evan says that he's going to defend him throughout. Evan then confronts Chad, and then sings Scream with him, out of anger and then Chad unexpectedly kisses him, and Evan walks out, wiping his face off.
In Snowed In, When Lucas feels bad, Evan sings This Christmas as they are all snowed in together at school. Later on, New Year's Eve, Evan and Lucas sing Turn Up The Music as Jaxon throws anothr New Year's Eve party, and hten, Evan and Lucas tries to get more intimate, however, this plan fails as Lucas has flashbacks over being violently beaten and gay bashed.
In Labels, Evan confronts Louis when he slushies Miles, and they get into a physical altercation. Later on in L.O.V.E., Evan and Lucas still find it difficult to be intimate with each other, and this disappoints Evan, who thinks that Lucas isn't overcoming his fears and his issues, and it's taking over his relationship with him. He sings Our First Time with Lana and Rose.
In 
Evan&B
, Evan is angered when his ideas are thrown away for doing R&B, and decides to quit New Directions and transfer to Dalton Academy. He auditions for the Warblers, singing
25/8
. With everyone in shock and disappointment, New Directions try to do a lesson for R&B in order for Evan to come back, but the attempt failed and he decided to say goodbye to McKinley, ending the episode singing
It's So Hard To Say Goodbye To Yesterday
.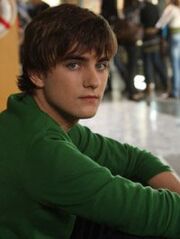 In New Divide, After his departure from New Directions and McKinley, he starts to adapt more in Dalton Academy, when he starts to bond with Jaxon's former fling, Claude, who seems to have a thing for him. When they both play basketball together, Claude teaches Evan to shoot a basketball, and when his effort improves, Evan is proud, while Claude suddenly moves in for a kiss, but Evan backs away and tells him that he's hot, but he's still dating Lucas. Claude recalls that Lucas is a boyfriend that "he can't touch" and puts Evan's hand on his chest to show the feeling when he's able to touch someone. Meanwhile, close friends Jaxon and Miles visit Evan in Dalton, and they sing together, and as that happenes, Miles later confronts Evan about leaving New Directions so stubbornly, and it all ends as Miles leaves out of the school. Evan seems to be fallen for Claude also, and then realizes that he loves Lucas, but notices their distant connection when it comes to their intimacy. He sings My December later on.
In Heritage, Lucas visits Evan in Dalton, and worries about him because he hasn't been answering any of his calls, feeling like that he's been pushed aside. Evan feels as if he has guilt for pushing everyone in New Directions behind, but feels like he's struggling to keep in touch now that he's able to adapt with the Warblers. Claude later on states that Lucas seems ungrateful for the things Evan had with him before he transferred, and said that if Lucas loved him, he would foster his happiness, no matter if it separated him, and Claude then asks how much Evan really loves him, proving that he didn't see him fighting for Lucas, it seems clear that Claude is trying to prove that he's fallen out of love with Lucas, and it seems as if Claude wants him and tries to do anything for him to see it all.

In A Night To Remember, In this episode, Evan decides to go to the McKinley Prom, and Claude tells Evan that Lucas is a lucky guy for having a guy like him as his boyfriend, saying that there are many guys out there and he's crazy about one of them, and Evan guesses that that "one" is him. Claude calls him beautiful, smart, funny and sexy, Evan replies back, saying that he's never been called beautiful or sexy before, and Claude says that maybe he hasn't been with the right type of people, and sings Boyfriend to him. In voice-over, Evan thinks that Claude is a "major fox", but then says that he's still dating Lucas, and says that his relationship with him is difficult, saying that Lucas has been hung up on a hard moment in Lucas' past when he was gay bashed. As Prom starts, Jaxon and Bella both introduce Evan to the stage and he performs Beautiful Sinner, but his eyes get caught up aggressively on Claude as he suddenly crashes at the Prom. Meanwhile, Evan confronts Claude about him being at Prom, and Claude says that he's crazy for him and he tries to force Evan to kiss him in order for him to show that they have undeniable chemistry together, at first he refuses, but then he decides to kiss him once, and while that, Lucas caught them in the act, and Evan tried to explain it, but Lucas suddenly slaps him and walked away from him. Evan felt bad for him to find out in the way he didn't want him to, and decides to break up with him, while Claude tells him that he has much courage for doing that.
In Hollywood, In this episode, Evan and Claude are now identified as a couple, and Claude tells him that he loves him. Mr. Schuester and Sue Sylvester visit him at Dalton and they convince him to come back to New Directions for Nationals, saying that he saw the connection with him and New Directions at Prom and wanted to have it all back with him. Claude also convinces him to return. In Underrated Artists, In this episode, there seems to be much tension between Evan and Lucas after their break up, and they began to go at it in song head to head, while Evan sings We Need A Resolution , and Lucas suddenly jumps in anger. Lastly, Gold Forever, After finding out that India is a member in a rival group for Internationals, it all seems to be a rivalry between the two, as she confronts everyone in New Directions, and makes an insult to Evan.
Season Three
Edit
In the third season opener, Days of Glory, Evan became a victim of being slushied by a jock. Meanwhile, his boyfriend, Claude, transfers to McKinley, holding hands with him in the hallway. While talking to Claude, Evan believes that Miles switched teams, as in him being gay. When Miles performs, Evan later apologizes.Later on, Nicole tells Evan that she hates the way Claude has been treated by New Directions, and Evan replies that he hates how they have been treated like losers since their loss at Nationals, and they sing Hometown Glory with Lana and New Directions.
Magic, In this episode, Evan performs Magic on stage, and Jaxon, Miles and James give him plaudits after his performancing, asking if he would care to join them for a smoothie at the Lima Bean. Evan also performs Magic (performed by B.o.B.) with New Directions.Evan is also disappointed after finding out about Jaxon and James' engagement before everyone else. Jaxon calls him touchy, and recalls their sexual encounter from year and a half ago. Evan wanted Jaxon only to tell him the truth and Jaxon apologized.
In We Made It, Evan tells Claude that he told Emma Pillsbury-Schuester "the truth", since he's still hurt that Jaxon hadn't told him the truth about his engagement with James, and feels as if Jaxon is pushing him out of his life. Evan performs Disturbiawith Jaxon and Rose with New Directions later on. In  Strength, When discovering Miles' new hairstyle, Evan calls Miles "Slim Shady," and Miles sarcastically replies back. Evan also attends a NYADA mixer with Jaxon and Hallie. Later on, Evan, Jaxon, and Lana become worried about Miles' as they discover and dig deeper into Miles' home life. Evan decides to provide a place for Miles to stay to leave his stepfather's home.? Evan, then, performs a number, Give Me All Your Luvin', with Ana and Rose, and the Cheerios on the football field.
In
Young Forever
, Evan performs a steamy and intense duet with Claude, performing
Va Va Voom
, and this gives Sue the idea to allow a Nicki Minaj tribute for the Glee Club. Evan also reveals that his first time having sex was not with Jaxon, it was with the McKinley archenemy, India. With everyone in shock about this, a flashback is shown where India and Evan are making out, during the aftermath of Evan's suspension for punching Jaxon.Trying to keep up with Evan, Jaxon asks if Evan could help with a number, claiming that he's a Nicki Minaj expert, but Evan declines it, stating that he had a meeting at the Lima Bean with a group called The Legacy, in order for him to have more extracurricular activities on his NYADA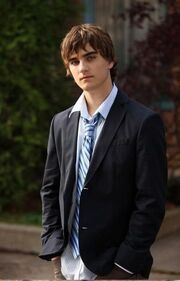 resume.Taken aback by this, Miles tries to warn Evan about the Legacy, claiming that they have a very bad reputation and is known for roughing people up very bad, and also saying that he wouldn't get accepted because he doesn't look black.Later on, when Evan arrives at the Lima Bean to meet The Legacy, members of the group aren't satisfied, claiming that Evan isn't black to be able to join. As of a
)
member named Gale, who Evan follows out of the Lima Bean, confronts him, defending his race. Subsequently, Evan gets physically attacked by the members of the group. Chuck came in time to save him from the riot.
Chuck, then, apologizes to Evan, claiming that he's not bisexual or gay because of a night he had with Claude. Also states that he doesn't want to end his friendship with him, since he's dating Claude.When a bruised and beaten Evan arrives in the choir room the day after, Jaxon becomes the first to question what happened to him. Evan refused to talk about it, but Miles, himself, seems not to care about Evan's incident because he didn't listen to his warning.After that, Lucas performs a song that seemed more focused on Evan, taken aback, Evan feels as if the song he performed was about his encounter with India. Lucas replied back, "Maybe," stating that Evan was lying to him, saying that Jaxon was the only person that he's ever had sex with. Coming to Evan's defense, Claude found Lucas' song insensitive, due the fact that Evan was brutally attacked.
Lana hesitantly agreed, due to her dislike over Claude. This situation caused the end of the Nicki Minaj assignment. Later on, Nicole and Evan start to relate more when they talk about virginity issues together, while Evan senses something strange when Nicole starts talking about something Dillon does to her, but she stopped quickly. They sang Young Forever together. Evan performs in Starships, and later on, a note fell out of Evan's locker and as he read it, it was insults from members of the Legacy, teasing him about being attacked. When Evan slammed his locker and walked, he tripped and fell down, as Marcus and Gale walked away, laughing. This infuriated Evan, and he sings Roman Holiday , marking the end of the episode.
Additionally, in Night Out, the others in New Directions agree to go out for a night, everyone also discovers that The Legacy has made Evan a target, and takes this concern to Principal Figgins, who confirms that he will cut McKinley ties to the Legacy. Meanwhile, Evan refuses to go out for the night, still angered and hurt from his attack from the Legacy. Everyone tries to persuade him to go. He claimed that something changed that may cause him to not be the same anymore, that a dark person deep inside him was unleashed. To this speech, he scares Jaxon and the others, and claims that it's his alter ego inside of him, stating that Beyonce and Nicki Minaj have them. Lana believes that it's Evan at war with himself and it's not healthy at all, and also tells him to scream and shout if he needs to, in order to get all of his anger out. Claude decides to stay with Evan to keep him company. Later on, Evan and Claude try to become more intimate, in shock of Evan's aggressive moves, Claude is pleased. But when interrupted from a knock on a door, Bella arrives, persuading Evan to join New Directions to push away his hurt and performs One Night Only for him. Evan then decides to join, and performs Night of Your Life with Claude at a karaoke bar.
In Auditions, Evan decides to audition for the school production of High School Musical, and performs Bop to the Top with Taylor for the roles of Ryan and Sharpay. Artie praised Evan and Taylor's connection during the song. After that, Artie confirms the role of Ryan to Evan.
In Ghost, Evan and the rest of New Directions go to an abandoned hospital instead of the Halloween Carnival. Furthermore, as it gets scarier, when Lucas agrees on something Evan said, it surprises him. Lucas replied, saying that he was jealous and wanted to get in the middle of Claude and his relationship.Not pleased by that statement, Evan gets infuriated and performs Ghost with Hallie, scaring the people in their group. Evan performs Thriller with the rest of New Directions as they try to escape from the hospital.
In Self-Esteem, In this episode, like the rest of New Directions, Evan becomes worried when finding out about Miles having surgery for his scar. He then performs More Beautiful You with Bella and Hallie. In  High School Musical, Evan feels as if he's not good enough and he never will be like Jaxon when being called out for not showing chemistry by Artie. During the play, Evan performs I Want It All with Taylor. At the final performance of High School Musical, Claude throws a bouquet of roses to Evan, and he becomes happy and feels as if he's a star.
In Show Choir Showdown, While doing homework, Claude starts rubbing Evan's leg. Feeling sore from soccer practice, Claude starts to rub his shoulders. Claude tells Evan to take his shirt off, when feeling the cold gel on his skin as Claude rubbed it on his back. But becomes satisfied when a burning sensation starts to kick in. Meanwhile, Miles heads to Evan's house after and pulls out his guitar, playing the tune to Take Care . Evan starts to sing along, and as they both sang together, the song ended and Evan pulled closer to Miles, kissing him. Miles, unhesitant, started to kiss him back, in where they tried to touch each other and become more intimate. It turned out that it was all in Evan's head. Evan tried to hide the fact that he had fantasized about Miles, and tried to state that he had sex with Claude, and felt as if it was boring and he started to have fantasies about other people. Evan later reveals that he has had a crush on Miles since he threw him in a dumpster, describing everything that he likes about him.
In Freaky Monday, Evan doesn't feel comfortable with sitting next to Miles on his living room couch due to the fantasies he started having involving Miles. He tries to fight himself to not to take things further. Evan states that Lana is not to tall to be Taylor when she is dressed up like her for the Glee Club assignment, and Evan becomes down after Aldy performs Man Down, a song Evan would usually sing.
In Miracle At McKinley, Evan performs 8 Days of Christmas at the 1st Annual St. Nick festival. Then in Face Down, when finding out about Dillon's abusive matter over Nicole, he, along with Miles and Adam, try to go to Dalton Academy to confront him about it. However, he was absent at the time. Later, they finally come face to face, as Evan lied to Dillon about helping judge a New Directions and Vocal Adrenaline sing-off. Evan performs in Face Down and also witness the aftermath of Lana's suicide attempt as she tried to jump off of a newspaper building. Evan performs in Love The Way You Lie in the end.
In God Is A DJ, Evan performs in Get the Party Started when all agree on doing a Pink tribute for Glee Club. Later on, as Evan is taken aback by Jaxon's words that New Directions is falling apart, Evan makes an attempt to prove that they aren't by performing Feel Good Time; unfortunately, his attempt had failed. Later on, Evan spots Jaxon singing Funhouse, and they both converse on the status of New Directions, as Evan believes that Jaxon thinks that way because he's mad at Lana for trying to hurt herself. Evan, then, confronts Lana and gives her tough love, explaining that Lana hurt a lot of people, and telling her to move on about what happened, and telling her to fix her issues with her friends so Glee Club can heal the wounds.
In Truth or Dare, Evan tries to convince everyone to have a New Year's Eve party. Meanwhile, as he explain moments that occured during the New Year's Eve party, he recalls how he and Aldy almost got arrested for fireworks. Later on, Evan and Aldy kiss in a game of "Spin the Bottle". Later on in  Idol Worship, Evan reveals that he and Aldy started to develop a friendship since New Year's Eve, stating that they have started to respect one another. Evan performs The Way You Make Me Feel for a part of the assignment and for Claude.
In Be Our Guest, Evan tells Miles that he feels that Claude seems to be ignoring him and giving more attention to Chuck and the rest of the Warblers. Not given good advice from Miles, he turns to Aldy for it. He and Aldy both sing Why Should I Worry later on. Meanwhile, as Miles tries to plan to force Claude to quit, he aggressively kissed Evan in front of him. As a result, Evan kicked Miles out of his house, leaving him nowhere to go.
In What Could Have Been, Evan is involved in a dream Jaxon has when he is injured and unconscious. In the dream, he is supposed to be Jaxon's boyfriend. He performs Before It Explodes in the dream as he feels like Jaxon's heart isn't with him anymore due to his head injury. In Amy, he performs In My Bed for the Amy Winehouse assignment. Lastly, in Retro Regionals, Evan is one of the members to complain about creating their own costumes for Regionals. He performs Now That We Found Love with Miles, Rose, and New Directions as a performance for Regionals.
Season Four
Edit
In the fourth season opener, Ch-Ch-Changes, Evan starts to feel lonely since Claude has been more busy with the Warblers. He and Claude both interacted on Skype, but it was a short conversation, they both sang Come Home.
As the stress gets to him more in The School of Hip-Hop, he has difficulties finding a rapper to connect to for the Hip-Hop assignment in Glee Club, as he goes to a place called Scratch! Records and he meets Skylar Hartson, and makes up a lie and says that he goes to Ohio State. Skylar gives Evan an Eminem album for suggestions, an album he said that he had. He starts to rap The Way I Am, and writes a status on Facebook, calling himself "Evanem". Concerned about this, Rose, Honey, and Nicole try to push him away from all of the stress with Claude by performing for him. Later in the end, he performs No Diggity with New Directions.
In Rock The Halls, Evan can be first seen discovering Lana walking in the hallways, although Evan believes that it is a boy and he compliments her looks and says that "he is cute". When Hallie thinks that he is taken by Claude, Evan expresses his disappointment towards it by stating that Claude never reaches out to him anymore.
In Gimme More, Evan performs Freakshow with Lana for the second Britney Spears tribute assignment. He is seen taking off his shirt, leaving a shocked, but amused audience in the choir room. Meanwhile, Evan is shown back working at Scratch! Records. He is complimented by Skylar when he says he'll be a pro. Evan thinks that he is a "natural" and music is important in his life. Skylar gives him a positive lecture about his dreams, but Evan doubts that anyone would say the same thing to him. Evan vents to Skylar about his relationship with Claude and says that his friends are more supportive than Claude is to him, but after Skylar tells him that he is dating a high school guy, Evan forgets that Skylar is in college. In the end, Evan is a witness to Bella and her fainting. 
Meanwhile, in Now or Never, Evan is disappointed in the fact that Claude still hasn't kept in touch with him. When Skylar convinces Evan to break up with him, he is confused due to the fact that they've only dated for a year. Evan brings up his dark phase in his sophomore year. Later on, Evan continued to help Skyler around Scratch!, but it turns into something more unexpected for him when Skylar attempts to touch him, and pushed him back against the counter. He questioned what he was doing until Skylar left him silent as they kissed each other. As they kissed, pictures started to surround Evan's mind about Claude, and he pulled away, trying hard to resist Skylar, but all of the feelings of hurt that Claude caused him, replaced the memories of his love for Claude, he pulled Skylar back to him and they passionately kissed each other. Evan is seen performing Live While We're Young with New Directions, meanwhile.  
In 
Jagged Little Pill
, Evan is present during the reveal of doing an Alanis Morrisette tribute, but the secrets start to float around New Directions when Miles states that Evan never tells him anything anymore, Evan replies by saying that Miles can never mind his own business, and angers him like Miles did with Claude. It is indicated that Evan is still angry about what Miles did to Claude, causing a gap in his relationship with Evan. Evan explains to Bella, Hallie, Miles and Lana about his relationship with Skylar, and his fear of not telling Skylar that he's not a college student. Evan thinks to himself that he knows that Skylar should know the truth, but he continues to doubt himself. Meanwhile, Evan typed something on Facebook to Claude, indicating that he's breaking up with him, and he is seen performing 
You Learn
after closing his computer and going to Scratch! Records, contemplating to tell Skylar the truth; however, he is unable to after Skylar distracts him by inviting him to a party as a date. So, he is left without any truth to reveal. Meanwhile, Evan becomes scared when Skylar states that he wants to visit Glee Club when Evan says he never feels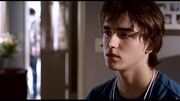 appreciated. But Evan reluctantly tells him no, lying in order to cover up the truth. Later, Evan is seen performing 
Ironic
with New Directions. After that, Evan attends the frat party Skylar invites him to, but questions his affair with Skylar, wondering if the kiss meant if they're dating or anything else. Skylar gives Evan drugs, convincing him to take Ecstasy in order to have a passionate night. He took a pill of the drug and drank beer with his nervousness being pushed away. When Skylar takes him into an empty room, it reminds him of his night with Jaxon during the New Years' Eve party. They are both seen performing 
Too Hot, 
Evan could feel his heart pounding afterwards, when everything starts to become a blur to him. The next day, the final scene of the episode, he started to think of a lot on his mind, Skylar, NYADA and graduation, he takes another pill of Ecstacy, but he asks himself what did he do after feeling something different about him.
In This Is Home, Evan is surprised when he sees Skylar in the hallway, but believing it was all an illusion due to the Ecstasy he took. Skylar tried to track Evan down to the Glee Club at the college he claimed to have attended, the Glee Club at his college never heard of him, and he wasn't enrolled. Skylar found out about his lie before Evan could reveal it. Evan responds by saying he thought Skylar wouldn't think he'd be cool if he told the truth. Evan says that he's still the same person and besides the college lie, everything else he told was the truth. Skylar apologizes for pressuring him at the frat party, but confirms that he and Evan are in a relationship. But when Skylar kisses him, he notices his lips feel dry. Evan took the E pills due to having a panic attack and he needed to use it, but Skylar warns him and tells him to be careful with the drugs. Meanwhile, at Scratch! Records, they continue to talk about the powerful drug, Evan wants to get rid of his anxieties. When Skylar asks him to get help with his parents, he doesn't want his parents to think that something is going wrong with him in his head, feeling that he has a lot of pressure on himself to be perfect, he is anxious to get a drug in order to relieve stress, so he asks Skylar where to get the best, and he gives him the person he needs to talk to, Dante DiLorenzo Vargas, but tells him not to bring anyone with him. Later on, Evan goes to the address Skylar gives him to meet Dante, while meeting him, he doesn't understand why everyone has a code name, Dante gives Evan drugs, everything he needs in a bag, but Evan pays for it first and then he recieves. However, when Dante warns him to stay away from Skylar and consider him a friend, and threatens him. Evan complies to this warning fearfully. At Evan's house, he attempts to go up the stairs until everything around him started to spin, he felt completely panicked and he began to cry and express his anger. He sings Save Me, pushing thoughts of Claude out and replacing them with thoughts of Skylar, but they were later replaced with images of Dante, but at the end, he states he wants all of these feelings he has to end, and takes another pill, and laid flat on the floor and stared at the ceiling and waiting for the pill to kick in, his phone had began to vibrate in the end. 
In Weird, Evan and Jaxon have a conversation with each other, when Jaxon shows concern over the fact that he's been talking to many people involved with Skylar, and worries about him dumping Claude and dating him. Evan tries to tell him to stay out of his life. Meanwhile, Evan can be seen giving Aldy money in exchange for a plastic bag of drugs. Later on, Evan can be seen late coming from Glee Club, with an unpleasing appearance, he enters by doing his song for the Weird Al Yankovic tribute, Couch Potato, the others start to be concerned by his behavior. 
In 
When I'm Gone
, Evan is seen by the supply closet taking pills, and Lana can be seen quickly approaching him, and when she confronts him by what's going on, Evan tries to stay secretive, wanting her to leave him alone. As he walks away, he drops Adderall on the ground, leaving evidence for Lana. Meanwhile, Evan returns back to the alley way with Dante. Skylar reveals himself, ending their relationship in front of Dante, telling him that he's naive, and he doesn't want the dangerous life to get the best of him, Evan takes his drugs and leaves. As Evan returns back to the choir room, he doesn't want to mention what happened before. Evan watches as Nicole performs a song that referred to him, and as he realizes, he decides to evacuate from the choir room, angered at Lana for telling everyone about his drug addiction, until he is stopped by Principal Figgins, who suspends him for two weeks and he was kicked off the Prom Committee, and was given mandatory counseling sessions with Emma Pillsbury. As he went back home, things started to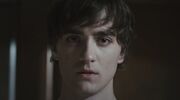 escalate, as he discovers something shocking found in his attic, a picture of a guy named Landon Peters, who had a resemblance of him, afterwards, another picture he saw, that made him realize, Landon Peters is his biological father. He confronts his mother for this, and he became completely distraught, realizing that he lived a lie. Realizing that he's not exactly biracial, and he became infuriated, he walked back upstairs, drowning the sound out with music of Eminem, and he began to sing 
When I'm Gone, 
he took the rest of his pills, and many side effects came in place, and he fainted, resulting in an accidental overdose. When he was sent to the emergency room, his stomach was pumped, but he was in a medically induced coma. Later on, Evan is awake, but still weak from his overdose, and as Bella, Honey, and Hallie enter the room to sing a song to him, he cries, and tells them that he loves them. Meanwhile, Lana goes to see Evan, as he apologizes to her, knowing that she was only looking out for him, but he refuses to consider himself suicidal after she thinks that he overdosed to take away his own life, but he agrees that he did and didn't based on his family issues at home, all of the pain he had with racism, he didn't seem to care anymore. Meanwhile, Evan is alone in his hospital room as thoughts began to surround him, negative hallucinations of New Directions saying he hates him, he wakes up quickly. When he asks himself if that's true, suddenly, he is told it's true by the ghost of 
John Weiner
, a figment of Evan's imagination. The ghost of John told him that everyone in New Directions hates him because he's selfish and due to their anticipation for Nationals, Evan didn't seem to care, but it's clear he's trapped into his own delusions. Evan sings 
Hate Me, 
flashbacks of being bullied by Miles and John taken him aback, and memories of his sexual encounter with Jaxon at the New Year's Eve party was shown, and as he was in his Warblers' uniform, Claude was involved. As he woke up from this hallucination, he began to cry. 
In Homecoming, Evan makes a triumphant return back to McKinley High after his recovery, 
Relationships
Edit
Main Article: Evan-India Relationship
India began a quest to become the queen bee at McKinley, setting her eyes on using Miles Larson for his popularity. However, when Miles didn't return her interest, she set her eyes on Evan who was more popular and better looking. Evan and India immediately began a relationship. Evan perhaps a little to eager due to his desperation to find love. India manipulated Evan, turning him into a male version of her. Their bullying of Jaxon, James Holland, Miles, Bella James, and Hallie Grace got out of hand at McKinley's Halloween carnival resulting in a fight that started with Evan punching Jaxon. Evan was suspended as a result. During this week suspension, he realized what he had become, and not happy with himself, he decided to change for the better, dumping India due to her bad influence on him. In the third season, Evan recalls a flashback of both him and India being sexually involved, it seems noted that India was not a virgin, after revealing the many guys that she had sex with.
Main Article: Evan-Breezy Relationship
Breezy first reveals that she has a crush on Evan in This Is Halloween, singing Monster by Lady Gaga. She sings this because she likes him, but he has been acting like a monster. Evan changes however, and Breezy starts to allow herself to get closer to him. In "Don't Turn Around," Evan goes to Breezy's house and after they practice a duet, they kiss. Evan is open to his feelings toward Breezy, but Breezy is reluctant because she doesn't wanna be hurt. In the next episode, The Most Magical Music On Earth, he sings I See the Light for her. Meanwhile, Breezy refuses to admit that she's in love with him, despite the other Glee girls insisting she is. In the very next episode, Battle For Sectionals, Evan makes one last attempt to get Breezy to go out with him by singing We All Want Love by Rihanna. Breezy agrees to go out with him and they begin to date.
In the middle of the season, Evan and Breezy began to fall apart, after he realized how much of a diva she was. Meanwhile, Evan began to set his eyes on friend Lucas, he began to think of why he hadn't set his eyes on him before, while he sings a song that refers to him at prom, this makes Breezy suspicious and she assumes the song is about Jaxon, recalling the night Jaxon and Evan had at the New Year's Eve party.
Evan comes clean and says that he's attracted to Lucas, and this infuriates Breezy, and then they both decide to remain as close friends.
Main Article: Evan-Lucas Relationship
Season One
Edit
In Pretty In Pink, at prom, Evan performs a song, showing that Evan has eyes for Lucas. However, Breezy, his girlfriend, gets suspicious about it. Later on, Evan realizes he's attracted to Lucas, while Lucas also has eyes for him. Breezy still gets suspicious about it, and later on assumes that Evan sung the song for Jaxon, after one night Jaxon and Evan had at a party, but then Evan tells Breezy that she's been acting much like a diva lately and told her that he has a crush on Lucas. They then break up and remain as friends. In LDN, the glee club heads to London with India's relatives and then when Lucas is at the pool, Evan sings, Fantasy to show how attracted he is to him, however, an embarrassing moment happens and the girls (India's relatives) laughs.
Season Two
Edit
In season two, Lucas confesses to Evan that he has a crush on him, and they suddenly kiss. Evan makes Lucas prove that the kiss meant something to him. In Duets Deux, while Lucas prepares for a duet with Kurt, Evan gives him good luck, and tells him that he loves him and asks him to be his boyfriend. Lucas accepts and they kiss. In Popular, Lucas sings a song to Evan. Later on, in New Year's Eve, Lucas and Evan try to experience going to another level, however, Lucas feels as if he can't be touched after his fear of being hurt after his last attack from Chad. It makes Evan confused and curious of what's going on with him.
Then, in L.O.V.E, Evan tries to once again experience going to another level with Lucas again, but the attempt once again fails when the memory catches Lucas' eye, this infuriates Evan. In Evan&B, Lucas is the first to convince Evan to stay in New Directions, after he quit due to neglect. Then, Evan refuses to answer his phone calls as he went to Dalton Academy.
In New Divide & Heritage, Evan grows apart from Lucas due to his new found happiness in the Warblers and growing bond with Claude Montague, who he begins to show attraction to. In A Night To Remember, Evan wrestles his feelings between Lucas & Claude as their Junior Prom approaches. Evan attends with Lucas, though Claude crashes the Prom to make another move on Evan. To try and prove there is no attraction between them, Evan kisses Claude, but Lucas witnesses the kiss and proceeds to slap Evan angrily. Evan finally admits that he has not been happy in his relationship with Lucas and breaks up with him, ending their relationship.
Main Article: Evan-Claude Relationship
Season Two
Edit
After deciding to quit New Directions and to transfer to Dalton Academy, Evan creates a small bond with Claude. It seems to grow throughout after Evan tries to balance his feelings between Lucas and Claude, as he tries to be faithful to Lucas, while he seems to become attracted to Claude, Claude tries to prove to Evan that he's growing apart from Lucas. Claude crashes at McKinley's Prom to prove to Evan that he's crazy about him, and makes Evan prove that if they don't have any chemistry by kissing him.
Season Three
Edit
Evan convinces Claude to transfer to New Directions and McKinley to be closer to him, and as he does, many of New Directions members don't like it. Meanwhile, in Young Forever, Evan and Claude sing a sexual-based performance of Nicki Minaj's "Va Va Voom", which gives Sue the idea of having a Nicki Minaj tribute week, however, as it turns bad when Evan gets violently attacked, Lucas, Evan's ex-boyfriend, sings a song from Nicki Minaj, called "Fire Burns" and many people defend Evan over Lucas's ignorant remarks to him, like Claude and Lana.
In Night Out, Evan is still devastated by his brutal attack by a group called the Legacy and New Directions tries to get him out of that moment and to have fun, but as Evan declines, Claude decides to stay with him. Claude and Evan were almost at the point of getting intimate, but with Bella's interruption, she finally got him to go with New Directions, and Claude and Evan sang a song at a karaoke bar.
In Be Our Guest, Miles believes that Claude hasn't been very active in New Directions and tries to do everything in order for him to leave, when Miles kisses Evan in front of Claude, he becomes disheartened and decides to leave McKinley.
It is unknown whether Claude or Evan is still together due to this incident.
Evan has had a crush on Jaxon since "Proud." Even though, Jaxon at first refuses him due to the stalkerish nature, Jaxon admits that had Evan approached it differently, he might have gave him a chance. Jaxon even admits he finds Evan attractive. Evan proves in "My Boyfriend's Back... Maybe?" that he still is crushing hard on Jaxon, but he doesn't wanna show it due to Jaxon's feelings for James. In "The Power of Love," Jaxon and Evan attend a New Year's Eve party thrown by Brittany and Santana. Evan makes a move on Jaxon and the two have sex, nearly ending Jaxon's relationship with James permanently. After the incident, Evan's attraction to Jaxon has seemed to cool somewhat and they manage to remain friends. As his close friendship with Jaxon continues, in "Popular", Jaxon helps Evan comes out to his parents. In season three, Jaxon tells Evan that he's engaged to James, and this angers Evan, because he didn't tell him about it, and Jaxon mentions that he "knows that Evan still has feelings for him".
Although Miles and Evan have a brotherly type of friendship, in Show Choir Showdown, it is revealed that Evan has/had a crush on Miles ever since Miles threw him in a dumpster. This is revealed mainly because Evan starts to have fantasies about Miles, he fantasizes that he and Evan made out in Evan's living room. Also, in Be Our Guest, when Miles tries to create a plan to force Claude to leave McKinley, he kisses Evan in front of him, causing Claude to make his final decision. In The NYADA Years, it is hinted, while Evan and India are conversing, that Evan had a sexual encounter with Miles while he was sleeping, oral sex, to be exact, although Evan stops her from talking about it.
Evan's Crush
Edit
Evan and Skylar met each other at Scratch! Records, where Skylar works. When Evan found out that he was a college student, Evan lied about being a college student himself just to get to know more about Skylar. Skylar gives him advice on music and his fallen relationship with Claude. This leads to sudden attraction for Skylar as he passionately kisses him and convinces him to jon a frat party and to take ecstacy with him. It is indicated that they are dating after Evan reveals his relationship with Claude is over.
Evan comes from both a Canadian and African American heritage, which means he is biracial. His dad and sister is African-American, and mother is Caucasian/Canadian.
Season One:
Edit
Solos In a Duet:
Edit
Pretty Vegas (Jaxon) (Vegas)
Solos In A Group Number:
Edit
Season Two:
Edit
Solos In A Duet:
Edit
Solos In A Group Number:
Edit
Season Three:
Edit
Solos In A Duet:
Edit
Solos In A Group Number:
Edit
Season Four:
Edit
Solos in a Duet:
Edit
Solos In A Group Number:
Edit
|}
Headline text
Edit