GLEE IS THE BEST MOVIE/SHOW EVER!!!!!!!!
The official community site dedicated to the hit fanfiction Glee: The Next Generation and it's spin-off, Glee: The Next Generation presents The NYADA Years, that anyone can edit. However, we can only grow with YOUR help. If you're new to this wiki, please look at our site rules. If you have any problems please ask one of the admins for help. If you have previously contributed to a wiki before, and want to add a new page, go ahead and add it here:
---
---

Glee: The Next Generation Season 5
Glee: TNG - The NYADA Years Season 1
---
Glee! The Genetic Opera
Some of New Directions decide to do their own Halloween thing and rent the local theater to put on a risque one-night-only performance of the hit movie musical, Repo! The Genetic Opera. The other members find themselves working at the Annual McKinley Halloween Carnival.


READ MORE

The Power of Goodbye
Everyone struggles with inventing/reinventing their identities. James struggles with the idea of being away from Jaxon as Thanksgiving approaches. Meanwhile, Jaxon makes a surprise visit to McKinley as he returns for the holiday.


READ MORE
---
Glee: The Next Generation Season 4 Credits
Brand new yearbook-style opening credits for Season 4.
---
Check out these other great fan fictions!
---
Be sure to also check out Glee: The Next Generation on our other official pages!


Click
to join the chat.-->
---

The Glee: The Next Generation wiki is not affiliated with FOX Studios. All trademarks, copyrights and/or legal ownership of items are property of their respective owners. This wiki is a fun, informative guide to all Glee: The Next Gen fans.
---

"

I have heard the theme to the Simpsons, Batman, Seinfeld, and King of the Hill. Can you tell me what those theme songs have in common, Will? They don't have words!
— Sue Sylvester to Will Schuester in Miami Heat

"
---

Featured Character of the Month
Honey Berry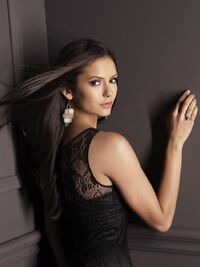 As the younger half sister of Rachel Berry, funky, sweet, and fierce Honey Berry is the epitome of a star. Though she spent most of her time prior to Season 4 breaking out of her sister's shadow and coming into her own, by Season 4, Honey is very much her own person. Though her sweet romance with Jaxon Pierce's adopted brother Declan Pierce came to an end when Declan went to college, she bounced back with bashing victim Lucas Aguirre. However, as Season 4 has shown, Honey has been having an affair with bad boy and ladies's man Miles Larson. But just who will be the one hurt?
---

Jameson
Jameson is the couple formed by Jaxon Pierce and James Holland. They are currently enganged.
---

.....that four characters on Glee: The Next Generation are real life couples?" They are Andrew Garfield (Chuck Salvatore) and Emma Stone (Rose Mitchell), as well as Nicholas Hoult (James Holland) and Jennifer Lawerence (Monique Ducasse). Interestingly enough, both couples met on the set of Marvel movies: The Amazing Spider-Man and X-Men: First Class, respectively.
___________________________________
.....that Wild Horses, a song sung by Holly Holiday in British Invasion, was written and recorded at a famous recording studio in Muscle Shoals, Alabama, just down the street from Glee: The Next Generation creator/writer JamesonOTP's Aunt Gean? JamesonOTP has even been to the recording studio before!
---

What did you think of "Miami Heat"?
What was your favorite song in "Miami Heat"?
Most Anticipated Season 4 Episode?
Who Has Been Your Favorite Character In Season Four?
Community content is available under
CC-BY-SA
unless otherwise noted.