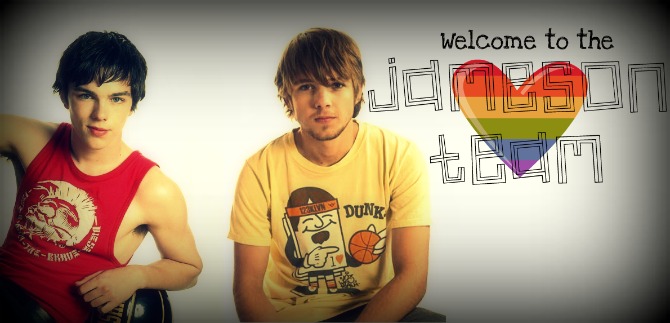 The Story, In Song
Edit
Jaxon just wanted to let the world know that he was here For Your Entertainment but the moment he saw James, he was in love. Jaxon was apprehensive at first because he thought to himself "James is Cooler Than Me." James however, was head over heels for Jaxon, assuring him "I'm Crazy For You."
Jaxon and James began to date and everytime Jaxon was with him, James could feel Fireflies in his stomach. Jaxon would feel dizzy headed, telling James "You Spin Me Round (Like a Record)."
However, James's ex, Archie, reappeared and tried to mess up what James and Jaxon had. Jaxon reassured James, telling him "I Was Born To Love You." Knowing Archie wouldn't give up, Jaxon assured him "You Haven't Seen the Last of Me."
Confused and left questioning himself, James took a long hard look in the mirror, hoping to find the answers in his Reflection.
Jameson, In Love
Edit
Jameson is the relationship between Jaxon Pierce and James Holland. Jameson is deeply in love and nobody can deny that or come between them (ahem, Archie). James loves Jaxon and Jaxon loves James and they are positively adorable together. They're so happy together and love each other for who they really are. They always support each other and defend each other. They inspire each other to be better people and performers. They compliment each other so well. James trusts Jaxon with his heart, something he isn't really open to doing since Archie broke it, proving he cares enough about Jaxon that he would put his heart on the line for him. When James wants to cry, but he's afraid of being vulnerable, Jaxon lets him cry in his arms, saying that it's the one place where he can be himself. Nobody can take Jameson away from us, not Evan, not Archie, no one. James is endgame, enough said.
Stop acting like you don't wanna ship Jameson and become ours because we're Crazy For You.
The Team Rules
Edit
You MUST have an account to sign.
No spamming or inserting false information.
Those of you who don't ship Jameson: don't bash, harrass, bully, or vandalize this page or anyone on it.
You may only sign once. However, you can comment as much as you want!
Jameson Shippers
Edit
Please, sign below if you proudly and fully support and ship the amazing OTP that is Jameson.
Klanier 619
 Life is better upside down

00:16, February 12, 2012 (UTC)</li>

One kiss is an

accident, but two isn't. 14:25, February 16, 2012 (UTC)

Brittana, Samcedes,

Jameson, Hana,

Klaine, Quoe,

Devano, Dougatore,

and Prae

4eva

-

♥

Kurt's

Boy

86

♥

06:24, February 16, 2012 (UTC)</li>

Whenever

Your World

Starts

Crashing Down

16:13, March 3, 2012 (UTC)
Templates
Edit
The Jameson Gallery
Edit
James Holland (Nicholas Hoult)
Jaxon Pierce (Max Thieriot)